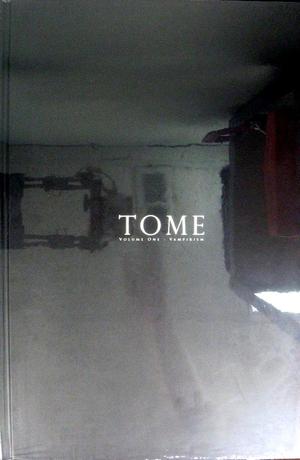 Tome Volume 1: Vampirism (HC)
TOME is an annual anthology in an oversized format showcasing a diverse set of world-class artists as they explore a single theme using the comic book, painting, and music mediums. And by oversized we're talking big, around 12x18" and 200 pages! This size will let you experience art and sequential storytelling in a way that would be almost impossible outside of standing in front of the original work itself.
TOME is curated/edited by 44FLOOD partner Kasra Ghanbari, and this inaugural edition of TOME is focused on the theme of "VAMPIRISM". The featured artists in TOME each take 3-5 pages to explore the theme, which includes the misuse of power and the objectification and exploitation of others. And at the conclusion of each featured artist's contribution, they have a one-page interview conducted by another artist to continue their artistic exploration.
Here are just some of this year's TOME contributors:
Alberto Ruiz (fine artist, art book maker) - Trinquette Publishing
Alexandra Manukyan (fine artist)
Andy Belanger (artist, writer, illustrator) - Kill Shakespeare, Black Church
Ario (fine artist, illustrator, writer, actor)
Ashley Wood (artist, writer) - Lore, Hellspawn, 3A Toys
Becky Cloonan (artist, writer, illustrator) - Wolves, Demo, Conan
Ben Templesmith (artist, writer) - 30 Days of Night, Wormwood: Gentleman Corpse, Fell
Bill Sienkiewicz (artist, writer) - Elektra: Assassin, Stray Toasters
Carlos Torres (tattoo artist, fine artist)
Chet Zar (fine artist, SFX artist) - Tool music videos, Hellboy I & II motion pictures
Chris Newman (fine artist, illustrator)
Christopher Mitten - Criminal Macabre, 30 Days of Night, Wasteland
Craig Thornton aka Wolvesmouth (chef) - founder/head chef of Los Angeles underground dinner club Wolvesmouth
Collide (musical group) - Independent Music Award nominee, soundtrack of Underworld: Awakening
Damien Echols (writer, artist, activist) - West Memphis Three, Life After Death
Dave McKean (visual artist, musician) - MirrorMask, Sandman, Cages, Arkham Asylum
David Michael Tibet (fine artist, musician) - Current 93, Myrninerest, Nurse With Wound, Collected Works of Count Stenbock
David Stoupakis (artist) - Korn album cover artist
Fink (singer, songwriter) - four studio albums, collaborator with Amy Winehouse and John Legend
Francesco Francavilla (artist, writer, illustrator, concept artist) - Batman The Black Mirror, Swamp Thing, Black Beetle
George Pratt (artist, writer) - Enemy Ace: War Idyll, Sandman, Wolverine: Netsuke
Guillermo Rigattieri (fine artist)
Jarboe (singer, songwriter, experimental musician) - Swans, World of Skin
Jason Shawn Alexander (fine artist, illustrator, writer) - Batman, Hellboy, multi-Eisner nominee
Jeff Lemire (artist, illustrator, writer) - Essex Country, Underwater Welder Sweet Tooth, Animal Man
Jill Thompson (artist, writer, illustrator) - Sandman, Beast of Burden, The Scary Godmother
Jim Mahfood (artist, illustrator, writer) - LA Ink Stains, Tank Girl, Clerks, 40oz Comics
Jock (artist, illustration, concept design) - The Losers, Batman: Black Mirror, Dune, Batman Begins
jonathanWAY$HAK (artist, writer, illustrator) - Toner, When Chickens Revolt, Analgesia
Kambriel (clothing & accessories designer)
Kasra Ghanbari (writer, art agent) - MONOCYTE, Drawing the Line Again Anthology
Kevin Allen (composer) - opera, chamber, orchestral
Matthew Bone (fine artist)
menton3 (artist, writer, musician) - ZvR, Silent Hill, MONOCYTE, Saltillo
Michael Page (fine artist)
Molly Crabapple (artist, writer, activist) - Dr. Sketchy's, Puppet Makers, house artist at The Box
Monica Richards (singer, songwriter) - Strange Boutique, Faith and the Muse
Neil Gaiman (writer) - The Sandman, American Gods, Coraline, Stardust
Nowell Rhys Fuller (musician, songwriter) - Front Line Assembly, Delerium
Phil Hale (fine artist)
Ray Fawkes (fine artist, illustrator, writer) - Possessions Book One: Unclean Getaway, One Soul
Richard A. Kirk (fine artist, illustrator) - Korn album cover artist
Richard Walters (singer, songwriter, musician)
Riley Rossmo (artist, writer) - Proof, Green Wake, Rebel Blood
Saltillo (band) - solo music project of menton3
Scott Radke (fine artist) - Tim Burton's Alice In Wonderland
Shane Pierce (fine artist, video game designer)
Steve Niles (writer) - 30 Days of Night, Criminal Macabre
Steve Severin (songwriter, musician, writer) - Siouxsie and the Banshees
Sunday Munich (band) - duo of vocalist Sarah Matthews and instrumentalist menton3
Tim Roosen (fine artist, metal sculptor)
Vincent Castiglia (fine artist)
| | |
| --- | --- |
| Publisher: | 44Flood |
| Title: | Tome |
| Issue: | Volume 1: Vampirism (HC) |
| Cover Price: | None |
| Cover Date: | 2013 |
| Release Date: | |
| Condition: | NEW |