Make G-Mart your home for comics!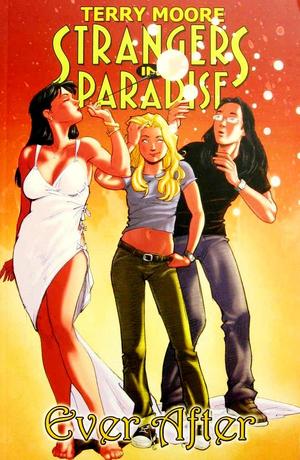 Strangers in Paradise Vol. 19: Ever After
by Terry Moore
This is it - the end of an award-winning series and an era in comics - the 19th and final SiP trade paperback! The saga of Katchoo and Francine comes to an end as 14 years of romance and adventure bring us to the final climactic scene. When her famous brother-in-law falls prey to a crazed fan's bullet, Francine is forced to confront her own doubts and fears about the life she has chosen. In a bold move, she leaves her cheating husband and tries to reconnect with the only person she ever truly loved, Katchoo. But things have changed since Francine left, Katchoo has changed, and it soon becomes apparent that if Francine wants her friend back she's going to have to fight for her. Grab a copy of comics history in the making!
David is in trouble. The angel of death is following him around. When Tambi learns his dark secret she confronts David and forces him to tell the women who love him. In a desperate bid to change David's impending fate the girls consider anything and everything, but it's Katchoo who comes up with the most shocking plan of all. As the plan unfolds, things become complicated when Francine, the great love of Katchoo's life, returns to claim her place by Katchoo's side and finds the spot taken.
Publisher:
Abstract Studios
Title:
Strangers in Paradise

Issue:
Vol. 19: Ever After

Cover Price:
$15.95
Cover Date:
2007
Release Date:
Notes:
Reprints STRANGERS IN PARADISE Vol. 3 #83-90.
Condition:
NEW
Subscription:
Strangers in Paradise XXV
$2.80

$3.99
static.f.077728
Copyright © 2018 G-Mart Comics. All rights reserved.