Make G-Mart your home for comics!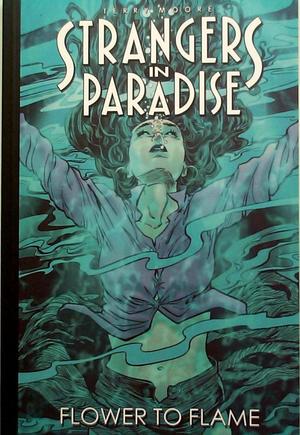 Strangers in Paradise Vol. 13: Flower to Flame
Katchoo and Francine are making plans for the future, but not with each other. Recent events have taken a toll on their once impenetrable friendship. Now, for the first time in years, the two young women must decide who they are without the other. Living in two different states, Katchoo returns to her art while Francine plans her wedding to Brad, complete with a much needed maternity dress!
Katchoo has barely moved into her new studio before she meets the beautiful and voluptuous Sara, who reluctantly agrees to model for Katchoo's oversized nude paintings. Encouraged by the support of her roommate, Casey, Katchoo throws herself into her work, unaware that the FBI is watching her and a ruthless killer stalks her as bait for a twisted plan of revenge. Meanwhile, Francine's wedding bliss turns to horror when she is forced to face the most devastating experience of her life.
Publisher:
Abstract Studios
Title:
Strangers in Paradise

Issue:
Vol. 13: Flower to Flame

Cover Price:
$15.95
Cover Date:
2003 November
Release Date:
Notes:
Reprints STRANGERS IN PARADISE (Vol. 3) #55-60.
Condition:
NEW
Subscription:
Strangers in Paradise XXV
$2.80

$3.99
static.f.057473
Copyright © 2018 G-Mart Comics. All rights reserved.