Make G-Mart your home for comics!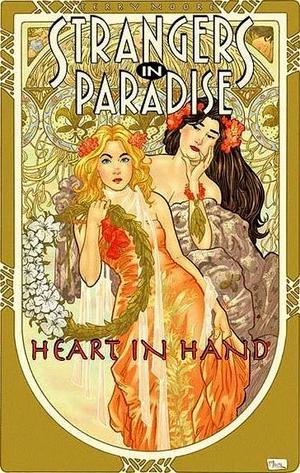 Strangers in Paradise Vol. 12: Heart in Hand
When Francine Peters called off her wedding and returned to Houston to find herself, she found Katina "Katchoo" Choovanski instead. But when well-meaning gal pal Casey locks the two together in a room for the night the results are disappointing to say the least. While Katchoo focuses on repairing her relationship with Francine, a deadly co-worker from the past is stalking her and the FBI watches her every move. Meanwhile, 6,000 miles away, step-sister Tambi tracks down Katchoo's former lover with the intention of collecting a shocking debt that must be paid, one way or another.
HEART IN HAND is the twelfth book in the STRANGERS IN PARADISE series that chronicles the lives and loves of Francine and Katchoo, two ordinary women leading extraordinary lives.
Publisher:
Abstract Studios
Title:
Strangers in Paradise

Issue:
Vol. 12: Heart in Hand

Cover Price:
$12.95
Cover Date:
2003 March
Release Date:
Notes:
Reprints STRANGERS IN PARADISE Vol. 3 #50-54.
Condition:
NEW
Subscription:
Strangers in Paradise XXV
$2.80

$3.99




G-Mart Comics Full Service Online Comic Store

static.f.054336
Copyright © 2018 G-Mart Comics. All rights reserved.