Make G-Mart your home for comics!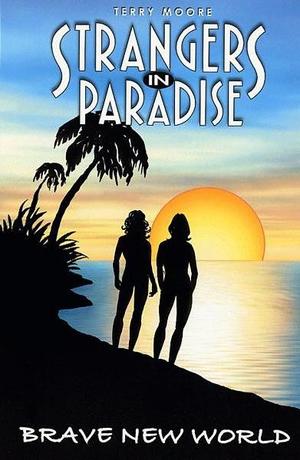 Strangers in Paradise Vol. 11: Brave New World
Katchoo is living in Hawaii, missing Francine. Francine is living in Tennessee, missing Katchoo. Faced with a future apart, both women abandon the men in their lives to be together again - but at what cost? When David leaves Katchoo to go home to Japan, a deadly killer follows him to his mountaintop retreat to collect a shocking debt. Francine, pregnant and engaged, cancels her wedding and moves back to Houston to have her baby, but not before imagining how her life might be if her choices were different.
Picking up where the last book, TROPIC OF DESIRE, left off, this latest collection of STRANGERS IN PARADISE offers an in-depth look into one of the most fascinating relationships in pop literature today - the passionate friendship of Francine and Katchoo, two strangers in paradise.
Publisher:
Abstract Studios
Title:
Strangers in Paradise

Issue:
Vol. 11: Brave New World

Cover Price:
$8.95
Cover Date:
2002 July
Release Date:
Notes:
Reprints STRANGERS IN PARADISE Vol. 3 #44-45, 47-48.
Condition:
NEW
Subscription:
Strangers in Paradise XXV
$2.80

$3.99




G-Mart Comics Full Service Online Comic Store

static.f.050353
Copyright © 2018 G-Mart Comics. All rights reserved.