Make G-Mart your home for comics!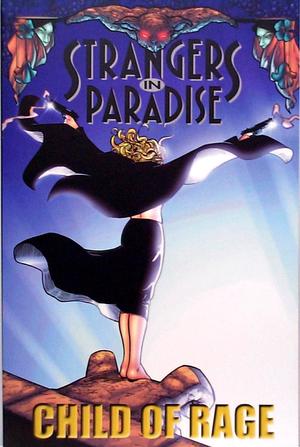 Strangers in Paradise Vol. 9: Child of Rage
Violence. She has been running from it for seven long years. Violence. She has seen what these people are capable of. Violence. She knows they will never stop looking for her. Violence. And now they've found her.
Child of Rage is the conclusion to the saga of Katina Choovanski's flight from her own violent past, from a time spent with power junkies and murderous psychopaths, where decency was a weakness and human lives were handled with reckless abandon. Now the running is over. The hunted becomes the hunter when Katina turns the tables and stalks her own demons in a desperate final attempt to reclaim her life, and the lives of her gentle friends, David and Francine.
Publisher:
Abstract Studios
Title:
Strangers in Paradise

Issue:
Vol. 9: Child of Rage

Cover Price:
$15.95
Cover Date:
2001 February
Release Date:
(Unknown)
Notes:
Reprints STRANGERS IN PARADISE Vol. 3 #31-32, 34-38.
Condition:
NEW
Subscription:
Strangers in Paradise XXV
$2.80

$3.99




G-Mart Comics Full Service Online Comic Store

static.f.049071
Copyright © 2018 G-Mart Comics. All rights reserved.