Make G-Mart your home for comics!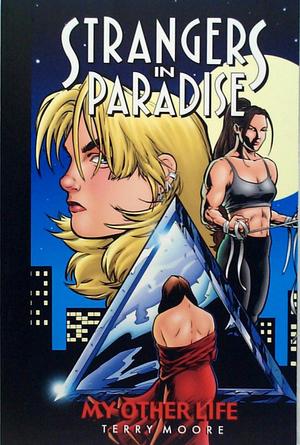 Strangers in Paradise Vol. 8: My Other Life
When I wake up at night
Remembering my other life,
I scream.
If I could find a way don't you believe
That I'd be there today?
But for my clever mind, to punish me,
I'm trapped inside this black design.
Tho' deep inside I hold the child I think I am,
My hands were midwife to the hell I'm living in.
Oh, believe me,
I'm running out of time.
- Griffin Silver
Finally Katchoo can breathe a sigh of relief. Darcy Parker, the woman who stalked and tormented her for years, is dead and David has been informed that his sister's billion dollar estate is his. All he has to do is come to New York City and sign the papers. So why isn't Francine happy? As Katchoo and David leave for the airport, Francine breaks down and reveals her true feelings about the complex relationship of her two best friends. In the aftermath of the fight that follows, Francine watches the most important people in her life walk away in anger, and then the unthinkable happens.
From a lazy day at the beach to the horrifying moment when her world comes crashing down, MY OTHER LIFE is the heartbreaking story of a woman with two lives who can no longer keep them apart.
Publisher:
Abstract Studios
Title:
Strangers in Paradise

Issue:
Vol. 8: My Other Life

Cover Price:
$14.95
Cover Date:
2000 July
Release Date:
(Unknown)
Notes:
Reprints STRANGERS IN PARADISE Vol. 3 #25-30.
Condition:
NEW
Subscription:
Strangers in Paradise XXV
$2.80

$3.99




G-Mart Comics Full Service Online Comic Store

static.f.049070
Copyright © 2018 G-Mart Comics. All rights reserved.