Make G-Mart your home for comics!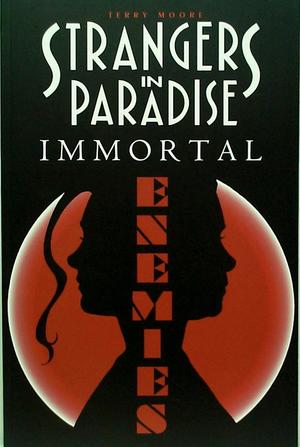 Strangers in Paradise Vol. 5: Immortal Enemies
I've listened to the Deathbird sing
I've heard the beating of his wings.
His shadow darkens all I see,
Murdering eternally.
Mercy, please! We always cry,
Just before we have to die.
But no hope drives the raven wild,
That comes upon the godless child.
Katchoo leaves her beloved Francine to look for David, the only male friend she's ever had, but finds his wicked and powerful sister Darcy Parker instead. Given an offer she can't refuse, Katchoo is forced to return to work for Darcy in the sordid world of sex and politics, or lose Francine forever. When Francine enlists the aid of Det. Walsh to help find Katchoo, she soon discovers the horrible secrets her friend has been hiding - secrets that may destroy them both!
Publisher:
Abstract Studios
Title:
Strangers in Paradise

Issue:
Vol. 5: Immortal Enemies

Cover Price:
$14.95
Cover Date:
1998
Release Date:
(Unknown)
Notes:
Reprints STRANGERS IN PARADISE Vol. 3 #6-12.
Condition:
NEW
Subscription:
Strangers in Paradise XXV
$2.80

$3.99




G-Mart Comics Full Service Online Comic Store

static.f.049067
Copyright © 2018 G-Mart Comics. All rights reserved.