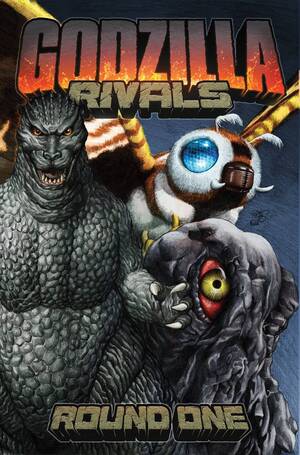 Godzilla Rivals - Round 1 (SC)
(W) Paul Allor & Various (A) E. J. Su
Epic monster battles featuring some of Godzilla's fiercest rivals: Hedorah, Mothra, King Ghidorah, and Battra! Each story is an all-out, knockdown Kaiju brawl.
First, Godzilla and Hedorah smash their way through New York City while the search for the only scientist who can stop the chaos goes on in the streets below. Then, Mothra, the ancient and beautiful guardian of nature and humanity, is trapped in Lake Ikeda, but when one Kaiju awakens, Godzilla is close behind.
When Mars invades Earth, Godzilla surfaces from Tokyo Bay and is pulled into battle with the flying saucers. Captured and taken by the Martians, Godzilla is forced to fight in a gladiatorial arena, where the King of the Monsters faces its biggest challenge yet: King Ghidorah. In the finale, at a quiet beachside town ravaged by constant sewage spillages and toxic waste dumps, something is stirring. Deep under the rolling hills that surround Hackney-on-Sea, Battra is awakening, driven by a single goal: to destroy mankind and save planet Earth.
By an exciting mix of creators including Paul Allor, E.J. Su, Mary Kenney, SL Gallant, Adam Gorham, Rosie Knight, and Oliver Ono.
Publisher:
IDW Publishing
Title:
Godzilla Rivals

Issue:
- Round 1 (SC)

Cover Price:
$19.99
Cover Date:
2023 January
Release Date:
Notes:
Reprints GODZILLA RIVALS #1-4.
Condition:
NEW
ISBN:
978168405913351999
DIAMOND:
JUN229348
Subscription:
Godzilla Rivals (quarterly)
$5.20

$7.99