Make G-Mart your home for comics!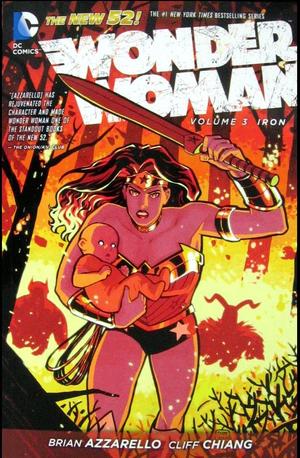 Wonder Woman (series 4) Vol. 3: Iron (SC)
Written by BRIAN AZZARELLO
Art by CLIFF CHIANG, TONY AKINS, DAN GREEN and AMILCAR PINNA
Cover by CLIFF CHIANG
MEET THE NEW GODS
When you're the daughter of a god-king, a family feud can threaten the whole universe.
Now that Wonder Woman has discovered her true identity - daughter of the Queen of the Amazons and Zeus, King of the Gods - she's learning this lesson the hard way: from her father's jealous wife Hera to his prodigal sun Apollo, an array of Olympians is out to destroy her - and the innocent, potentially omnipotent baby that Zeus recently fathered with a human woman...
Her quest to save the child - and her own skin - has forced her to team up with a motley crew of demigods and deities. But Olympus isn't the only pantheon in play: in the far reaches of space, a race of New Gods prepares to send its greatest warrior into battle - not to save the child, but to destroy it. And in the frozen wasteland at the edge of the Earth, an old god arises, with old scores to settle.
Wonder Woman's mettle is about to be tested - but will it be melted down entirely? Gods forbid...
Publisher:
DC Comics
Title:
Wonder Woman

Issue:
(series 4) Vol. 3: Iron (SC)

Cover Price:
$16.99
Cover Date:
2014
Release Date:
Notes:
Reprints WONDER WOMAN (series 4) #0 & #13-18.
Condition:
NEW
ISBN:
978140124607551699
ISBN:
978140124607551699
DIAMOND:
DEC130308
Subscription:
Wonder Woman (monthly)
$3.90

$5.99
Wonder Woman Comic Book Subscription
Wonder Woman (monthly)
$3.90
$5.99
Wonder Woman Comic Book Back Issues
Wonder Woman
DC Comics Back Issues
DC Comics
G-Mart Comics | Best Online Comic Book Store
static.f.127858
Copyright © 2022 G-Mart Comics. All rights reserved.