Make G-Mart your home for comics!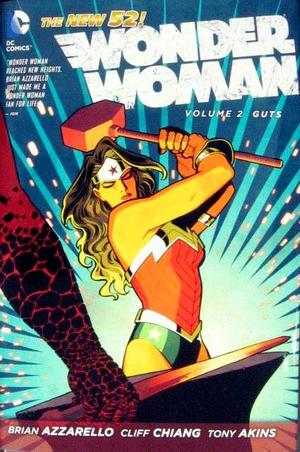 Wonder Woman (series 4) Vol. 2: Guts (HC)
Written by BRIAN AZZARELLO
Art by CLIFF CHIANG, TONY AKINS and DAN GREEN
Cover by CLIFF CHIANG
GO TO HELL
Wonder Woman would do anything to save the lives (and souls) of the people she loves. Now she must go to hell and back. Literally.
With her all-powerful father Zeus missing, Wonder Woman has been swept up by the mother of all family feuds: a battle for the throne of Olympus among the gods themselves. Her friend Zola - very mortal and, thanks to Zeus, very pregnant - is just another casualty, dragged into the shadowy realm of Hades, lord of the dead.
To free her friend, Wonder Woman must face the darkest secret of the Amazons ... arm herself with weapons from the forge of the gods ... ally herself with mercurial deities whose motives cannot be trusted ... and travel into Hell, where Hades' every whim is made a horrifying reality.
And she must prepare to make the ultimate sacrifice, because this mad and vengeful god wants more from Wonder Woman than just her soul...
Publisher:
DC Comics
Title:
Wonder Woman

Issue:
(series 4) Vol. 2: Guts (HC)

Cover Price:
$22.99
Cover Date:
2013
Release Date:
Notes:
Reprints WONDER WOMAN (series 4) #7-12.
Condition:
NEW
ISBN:
978140123809452299
ISBN:
978140123809452299
DIAMOND:
SEP120234
Subscription:
Wonder Woman (monthly)
$3.90

$5.99
Wonder Woman Comic Book Subscription
Wonder Woman (monthly)
$3.90
$5.99
Wonder Woman Comic Book Back Issues
Wonder Woman
DC Comics Back Issues
DC Comics
G-Mart Comics | Best Online Comic Book Store
static.f.116975
Copyright © 2022 G-Mart Comics. All rights reserved.