Make G-Mart your home for comics!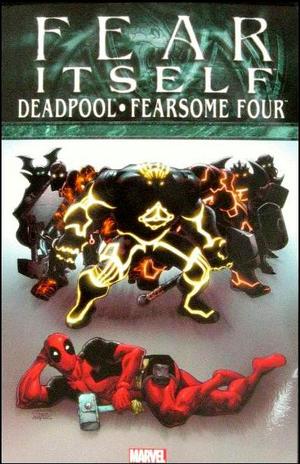 Fear Itself: Deadpool / Fearsome Four (SC)
Written by CHRIS HASTINGS, BRANDON MONTCLARE
Penciled by BONG DAZO, SIMON BISLEY, RYAN BODENHEIM, MICHAEL WILLIAM KALUTA, RAY-ANTHONY HEIGHT & MORE
Cover by RYAN STEGMAN
A double dose of FEAR ITSELF starring Deadpool and the Fearsome Four! The Merc with a Mouth cooks up a plan to turn a profit from FEAR ITSELF by creating his own Worthy out of a sledgehammer and dimwitted D-lister the Walrus, whom he dupes into putting the scare into some local yokels in New Mexico. But the plan goes pear-shaped when it turns out the hammer has powers of its own, and the tusked twit brandishing it gets wise to Deadpool's ploy. Then, everyone's favorite suit-wearing fowl, Howard the Duck, joins up with Nighthawk, She-Hulk and Frankenstein's monster as the band of oddball heroes chases down the swamp monster Man-Thing, who has been driven mad by the mass hysteria resulting from the Serpent's attack on humanity!
Publisher:
Marvel Comics
Title:
Fear Itself: Deadpool / Fearsome Four

Issue:
(SC)
Fear Itself: Deadpool
Fear Itself: Fearsome Four
Cover Price:
$19.99
Cover Date:
2012
Release Date:
Notes:
Reprints FEAR ITSELF: DEADPOOL #1-3 and FEAR ITSELF: FEARSOME FOUR #1-4.
Condition:
NEW
ISBN:
978078515742751999
DIAMOND:
AUG120737
Fear Itself: Deadpool Comic Book Back Issues
Fear Itself: Deadpool
Fear Itself: Fearsome Four
Marvel Comics Back Issues
Marvel Comics
G-Mart Comics | Best Online Comic Book Store
static.f.115767
Copyright © 2022 G-Mart Comics. All rights reserved.