Make G-Mart your home for comics!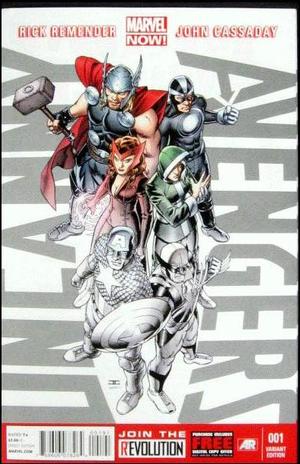 Uncanny Avengers No. 1 (1st printing, variant advance retailer edition)
RICK REMENDER (W) * John Cassaday (A)
ALL NEW ONGOING!
* THIS IS IT! The greatest era of the Marvel Universe starts here! From the ashes of AvX an all-new, all-different Avengers assemble!
* Captain America begins his quest to create a sanctioned Avengers unit comprised of Avengers and X-Men, humans and mutants working together - so why is Professor Xavier's dream more at risk than ever?
* The first attack of the most loathsome villain in history will quake the Marvel Universe forever!
* The funeral of one of Marvel's greatest heroes!
Publisher:
Marvel Comics
Title:
Uncanny Avengers

Issue:
No. 1 (1st printing, variant advance retailer edition)

Cover Price:
$3.99
Cover Date:
2012 December
Release Date:
Notes:
Letter printed on inside front cover is addressed to G-Mart.
Includes a redemption code for a digital download of the issue.
Condition:
NEW
UNKNOWN:
Uncanny Avengers Comic Book Back Issues
Uncanny Avengers
Marvel Comics Back Issues
Marvel Comics
G-Mart Comics | Best Online Comic Book Store
static.f.114888
Copyright © 2022 G-Mart Comics. All rights reserved.