Make G-Mart your home for comics!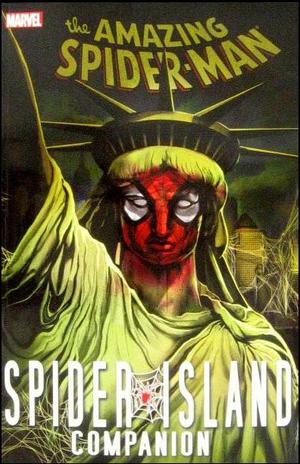 Spider-Island Companion (SC)
Written by VARIOUS
Penciled by PEPE LARRAZ, EMMA RIOS, SEBASTIAN FIUMARA, LEANDRO FERNANDEZ, JUNE BRIGMAN, MIKE MCKONE, GIUSEPPE CAMUNCOLI, MAX FIUMARA, CHUCK BB, GREG BALDWIN, DAVE GUERTIN, FRANCESCO FRANCAVILLA & KYLE HOTZ
Cover by HUMBERTO RAMOS
Welcome to Spider-Island! Hope you survive the experience! Longtime Spider-foe the Jackal has unleashed an insidious virus upon New York City; now, Manhattan is crawling with a million people possessing all the powers of Spider-Man -- but none of the responsibility! Spidey's doing all he can to restore order, but it'll take a lot more than just one Spider-Man to save the day! Enter the Avengers, Spider-Girl, Black Panther, Hercules, Shang-Chi, Cloak and Dagger, Spider-Woman and more of Marvel's greatest heroes!
Publisher:
Marvel Comics
Title:
Spider-Island

Issue:
Companion (SC)
Cloak & Dagger
Hercules
Shang-Chi
Spider-Girl
Cover Price:
$34.99
Cover Date:
2012
Release Date:
Notes:
Reprints SPIDER-ISLAND: THE AMAZING SPIDER-GIRL #1-3, SPIDER-ISLAND: CLOAK & DAGGER #1-3, SPIDER-ISLAND: DEADLY HANDS OF KUNG-FU #1-3, HERC #7-8, BLACK PANTHER: THE MOST DANGEROUS MAN ALIVE #524, SPIDER-ISLAND: AVENGERS #1, SPIDER-ISLAND: SPIDER-WOMAN #1, SPIDER-ISLAND: I LOVE NEW YORK CITY #1 and SPIDER-ISLAND: HEROES FOR HIRE #1.
Condition:
NEW
ISBN:
978078516229253499
DIAMOND:
JUL120657
Cloak & Dagger Comic Book Back Issues
Cloak & Dagger
Hercules
Shang-Chi
Spider-Girl
Marvel Comics Back Issues
Marvel Comics
G-Mart Comics | Best Online Comic Book Store
static.f.114885
Copyright © 2023 G-Mart Comics. All rights reserved.