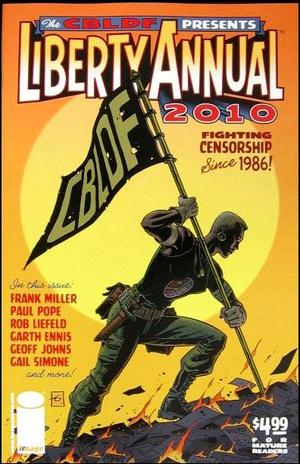 CBLDF Presents Liberty Annual 2010 (Martha Washington cover - Dave Gibbons)
Story BRIAN AZZARELLO, ANINA BENNETT, EVAN DORKIN, GARTH ENNIS, THOMAS JEFFERSON, GEOFF JOHNS, ROB LIEFELD, BEN McCOOL, LARRY MARDER, FRANK MILLER, GABRIEL BA & FABIO MOON, SCOTT MORSE, JIMMY PALMIOTTI, DARICK ROBERTSON, GAIL SIMONE, DON SIMPSON
Art AMANDA CONNER, COLLEEN DORAN, EVAN DORKIN, DAVE GIBBONS, PAUL GUINAN, AMANDA GOULD, SCOTT KOLINS, ROB LIEFELD, LARRY MARDER, FRANK MILLER, TERRY MOORE, GABRIEL BA & FABIO MOON, SCOTT MORSE, PAUL POPE, DARICK ROBERTSON, DON SIMPSON, JEFF SMITH, ROB STEEN, JILL THOMPSON, BILLY TUCCI, SKOTTIE YOUNG
Editor LARRY MARDER
A COMIC BOOK LEGAL DEFENSE FUND BENEFIT BOOK!
LIBERTY COMICS is the annual ensemble of comic book greats who have donated their time and energy to support the Comic Book Legal Defense Fund.
CBLDF is is a non-profit organization dedicated to the protection of the First Amendment rights of the comics art form and its community of retailers, creators, publishers, librarians and readers. The CBLDF provides legal referrals, representation, advice, assistance and education in furtherance of these goals.
The roster for LIBERTY COMICS 2010 includes contributions such as: A new The Boys story by GARTH ENNIS & ROB STEEN, the first new Megaton Man adventure by DON SIMPSON in over a decade, an all-new Milk & Cheese story by EVAN DORKIN, a preview of The Contrarian by SCOTT MORSE, a new Conan tale by DARICK ROBERTSON, Boilerplate by ANINA BENNETT & PAUL GUINAN and "Why We Fight!" by editor LARRY MARDER.
Plus: all-new short stories by GEOFF JOHNS & SCOTT KOLINS, FRANK MILLER, GABRIEL BA & FABIO MOON, PAUL POPE, JEFF SMITH, TERRY MOORE, DAVE GIBBONS, BRIAN AZZARELLO & JILL THOMPSON, ROB LIEFELD, COLLEEN DORAN and SKOTTIE YOUNG.
All proceeds from LIBERTY COMICS will benefit the First Amendment legal work of the Comic Book Legal Defense Fund!
WARNING: MAY NOT BE SUITABLE FOR ALL AGES
Publisher:
Image Comics
Title:
CBLDF Presents Liberty

Issue:
Annual 2010 (Martha Washington cover - Dave Gibbons)
CBLDF Presents: Liberty Annual
CBLDF Presents: Liberty Annual
Cover Price:
$4.99
Cover Date:
2010 October
Release Date:
Condition:
NEW
UPC:
70985300948100111
DIAMOND:
AUG100420