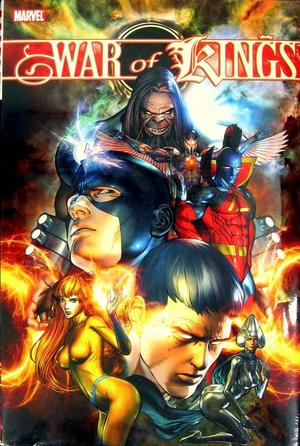 War of Kings (HC)
Written by DAN ABNETT, ANDY LANNING, C.B. CEBULSKI & GREG PAK
Penciled by PAUL PELLETIER, WELLINTON ALVES, HARVEY TOLIBAO & CARLO PAGULAYAN
Cover by BRANDON PETERSON
A CLASH OF CIVILIZATIONS...
A COLLISION OF EMPIRES...
A WAR OF KINGS!
The Inhumans!
In the wake of the Skrull invasion of Earth, the hidden race took flight to outer space - no longer willing to trust their security to the hands of others. Their destiny as rulers of the Kree written in the ancient fates, Black Bolt and the royal family have stepped up to take command of the Kree galaxy!
Emperor Vulcan!
The power-mad brother of Scott and Alex Summers - the X-Men's Cyclops and Havok - Vulcan has reached the ultimate heights of power: He is emperor of the Shi'Ar, the most advanced military civilization in the galaxy!
What happens when these mighty powers turn their rage upon each other? And what happens to those caught in the crossfire? When two mighty rulers wage war, who will rule?
Written by Dan Abnett and Andy Lanning - and featuring the Guardians of the Galaxy, Darkhawk, the X-Men-led Starjammers and more cosmic favorites - the War of Kings is a battle that may rip the universe asunder!
Publisher:
Marvel Comics
Title:
War of Kings

Issue:
(HC)
Darkhawk
War of Kings
War of Kings: Ascension
War of Kings: Warriors
Cover Price:
$39.99
Cover Date:
2009
Release Date:
Notes:
Reprints WAR OF KINGS #1-6, WAR OF KINGS: DARKHAWK #1-2, WAR OF KINGS: ASCENSION #1-4, WAR OF KINGS: WARRIORS #1-2, WAR OF KINGS: WHO WILL RULE?, WAR OF KINGS: SAVAGE WORLD OF SAKAAR and MARVEL SPOTLIGHT: WAR OF KINGS.
Condition:
NEW
UPC:
75960614293400111
DIAMOND:
SEP090506