Make G-Mart your home for comics!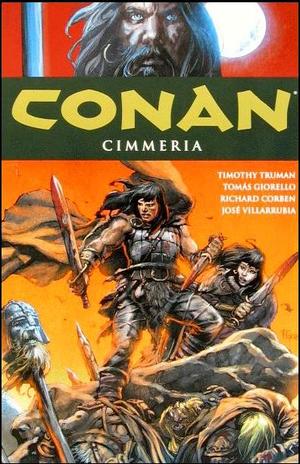 Conan (series 2) Vol. 7: Cimmeria (SC)
Timothy Truman (W), Tomas Giorello (P), Richard Corben (P), and Jose Villarrubia (C)
Conan volume 7: Cimmeria marks a transitional period in young Conan's life, as he spurns civilization - with its turncoats and legal trappings - and returns to the beloved, brutal country of Cimmeria, where he was born and raised. The dangers found in the snowy mountain passes of his barbaric homeland are a welcome change from the mind games and treachery Conan encountered in the cities of the East, but there are unfortunate lessons in treachery to be learned here, too. When a tentative truce with the Aesir is threatened by the actions of Caollan, the first woman Conan ever loved, Conan again finds himself at the heart of a larger conflict that will test not only his physical strength and cunning mind - but his passionate heart as well.
Publisher:
Dark Horse Comics
Title:
Conan

Issue:
(series 2) Vol. 7: Cimmeria (SC)

Cover Price:
$17.99
Cover Date:
2009 June
Release Date:
Notes:
Reprints CONAN THE CIMMERIAN #0-7.
Condition:
NEW
DIAMOND:
APR108109
Subscription:
Conan the Barbarian
$0.30
Conan the Barbarian Comic Book Subscription
Conan the Barbarian
COOL
$0.30
Conan Comic Book Back Issues
Conan
Dark Horse Comics Back Issues
Dark Horse Comics
G-Mart Comics | Best Online Comic Book Store
static.f.088639
Copyright © 2022 G-Mart Comics. All rights reserved.