Make G-Mart your home for comics!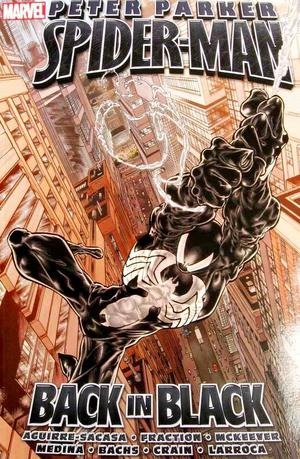 Peter Parker: Spider-Man - Back in Black (SC)
Written by ROBERTO AGUIRRE-SACASA, MATT FRACTION & SEAN MCKEEVER
Penciled by ANGEL MEDINA, RAMON BACHS, LEE WEEKS, SALVADOR LARROCA & TERRELL BOBBETT
Cover by ANGEL MEDINA
The second massive softcover collecting the status-quo-shattering BACK IN BLACK saga! Reeling in the aftermath of CIVIL WAR, Peter Parker has plenty of reasons to consider a change of wardrobe: Black is his state of mind. But the worst is yet to come for Spider-Man!
In SENSATIONAL SPIDER-MAN, as Spider-Man and his family get used to the new status quo...other Spider-Men begin appearing all over the city. Younger, less-experienced versions of our web-spinning hero, causing havoc wherever they go. Who's creating these arachnid dopplegangers and why? And will Peter Parker be able to stop them, and whoever's behind them, before more lives are lost?
And in SPIDER-MAN FAMILY, Peter Parker and his supporting cast get all-new, untold tales featuring the original alien symbiote black costume.
Publisher:
Marvel Comics
Title:
Peter Parker: Spider-Man

Issue:
- Back in Black (SC)
Sensational Spider-Man
Spider-Man Family
Cover Price:
$24.99
Cover Date:
2008
Release Date:
Notes:
Reprints SENSATIONAL SPIDER-MAN (series 2) #35-40 and ANNUAL #1, SPIDER-MAN FAMILY #1-2, SPIDER-MAN: BACK IN BLACK HANDBOOK and MARVEL SPOTLIGHT: SPIDER-MAN: BACK IN BLACK.
Condition:
NEW
Sensational Spider-Man Comic Book Back Issues
Sensational Spider-Man
Spider-Man Family
Marvel Comics Back Issues
Marvel Comics
G-Mart Comics | Best Online Comic Book Store
static.f.081049
Copyright © 2022 G-Mart Comics. All rights reserved.