Make G-Mart your home for comics!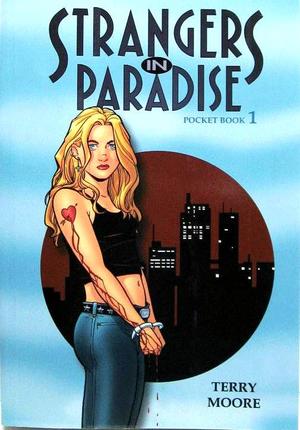 Strangers in Paradise Pocket Book Collection Vol. 1
BY TERRY MOORE
Katchoo is a beautiful young woman living a quiet life with everything going for her. She's smart, independent and very much in love with her best friend, Francine. Then Katchoo meets David, a gentle but persistent young man who is determined to win Katchoo's heart. The resulting love triangle is a touching comedy of romantic errors until Katchoo's former employer comes looking for her and $850,000 in missing mob money. As her idyllic life begins to fall apart, Katchoo discovers no one can be trusted and that the past she thought she left behind now threatens to destroy her and everything she loves - including Francine.
Publisher:
Abstract Studios
Title:
Strangers in Paradise

Issue:
Pocket Book Collection Vol. 1

Cover Price:
$17.95
Cover Date:
2004
Release Date:
Notes:
Reprints STRANGERS IN PARADISE Vol. 1 #1-3 & Vol. 2 #1-13.
Condition:
NEW
Subscription:
Strangers in Paradise XXV
$2.80

$3.99




G-Mart Comics Full Service Online Comic Store

static.f.068293
Copyright © 2018 G-Mart Comics. All rights reserved.