Make G-Mart your home for comics!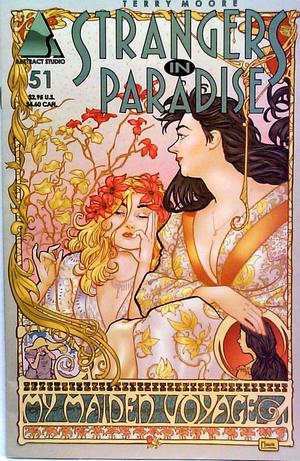 Strangers in Paradise Vol. 3, #51
by Terry Moore
Two hikers have discovered Veronica's dismembered body and now the FBI is pressing Katchoo for information about her
deadly stepsister, Tambi. The Amazon blonde is a cool, calculating killer who has managed to stay one step ahead of
everybody, including the FBI, but how much longer can she keep it up? Meanwhile, behind closed doors, Francine has a
passionate evening of hot romance... but we're not going to spoil the surprise and tell you who with -- you'll have to read this
issue yourself to find out!
b&w, 24pg $2.95
Publisher:
Abstract Studios
Title:
Strangers in Paradise

Issue:
Vol. 3, #51

Cover Price:
$2.95
Cover Date:
2002 June
Release Date:
Condition:
NEW
Subscription:
Strangers in Paradise XXV
$2.80

$3.99




G-Mart Comics Full Service Online Comic Store

static.f.050127
Copyright © 2018 G-Mart Comics. All rights reserved.