Make G-Mart your home for comics!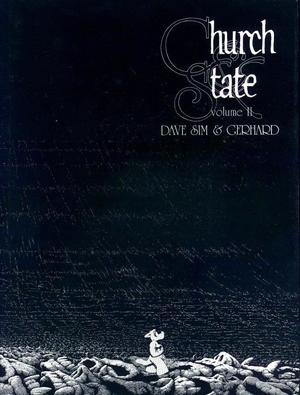 Cerebus Book 4: Church & State II
One of the longest single stories in the history of comics. Manipulated by President Weisshaupt, Cerebus finds himself married and then finds himself as Pope of the Eastern Church! Introduces Mrs. Henrot-Guth (Cerebus' mother-in-law), Boobah, Bear, Bishop Powers, Bishop Posey, Mick and Keef and many more. The Roach becomes Wolveroach and the Secret Sacred Wars Roach. Also in volume II is the Flaming Carrot crossover.
Publisher:
Aardvark-Vanaheim
Title:
Cerebus

Issue:
Book 4: Church & State II

Cover Price:
$35.00
Cover Date:
None
Release Date:
(Unknown)
Notes:
This book reprints CEREBUS #81-111.
Condition:
NEW
Subscription:
Cerebus in Hell
$2.80

$4.00
static.f.023570
Copyright © 2018 G-Mart Comics. All rights reserved.